If you blinked then you probably missed it! The speed and power of the social web has shown its head again, and this time it showed up on national TV during a NFL playoff game.
On Saturday night, against the Philadelphia Eagles, New Orleans Saints wide receiver Lance Moore celebrated a 24-yard touchdown catch by doing the "NaeNae" dance. Here's the vine:
But it didn't stop there! On the very next drive Saints running back Mark Ingram scored on a four-yard run and how did he decide to celebrate? Yep, you got it doing the "NaeNae":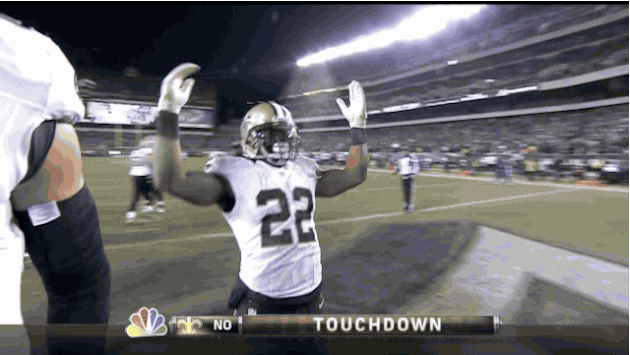 Image via Bleacher Report
In case you're not familiar, the NaeNae, is a relatively new dance started by a group of high school students in Morrow, Georgia (about 15 miles south of Atlanta). @WeAreToonz (the self-proclaimed creators) blends familiar leg movements with raised hand gestures, a call and response cadence and rhythm. Here's a look at the "official NaeNae":
What does this mean to brands?
Well a nimble brand, a brand prepared for these moments can use these to create really interesting engagement opportunities in digital or social media. From dance offs to spoofs, a little creativity can go a long way with African-American males 18 to 35 years old which is a tough demo to reach for many marketers. Keeping our ears to the "social media streets" is critical, so I have a couple of questions for you! Is your organization paying attention to these moments? If not, why? If so, how do you incorporate these inflections into your strategy to maximize authenticity?
P.S. – I'm willing to bet that the NaeNae shows it's head during the Super Bowl!
Cheers and HAPPY NAE NAE… I mean NEW YEAR!